Testimonials:
"I came to Medford Rehab after having my left leg amputated. I have re-learned how to walk again and complete many other personal tasks. The staff has given me back my dignity and quality of life. I am returning to my own home to live independently. This is a dream come true for me!"
— Carlos
Resident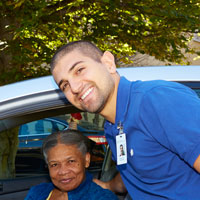 "My experience as the Director of Rehabilitation at Medford RNC has been an incredibly rewarding experience. I get to help people recover from life altering disabilities and injuries and assist them in attaining their highest level of function. We use the latest hi-tech equipment and modalities to promote the healing process."
— Mike
Director of Rehab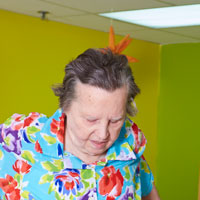 "I am a long term care resident and Medford Rehab & Nursing center has become my home. The staff is warm and friendly. The Rehab team has worked with me to maintain my highest level of independence. I enjoy all the different activities and outings that are offered every day."
— Margaret
Resident
We pride ourselves on providing our community members the highest quality-of-life by partnering with residents and families to foster meaningful relationships. Our hand-picked staff is committed to developing the physical, emotional, and spiritual potential of our residents.
COME VISIT, AND SEE HOW WE MAKE CARE PERSONAL
We offer compassionate and dignified care to promote each of our residents' physical and emotional well-being. Our rehabilitation team provides customized rehabilitation plans and measurable, concrete results, while our long-term care team builds and nurtures our vibrant community.
ALL WHILE PROVIDING PROVEN, HIGH-LEVEL CARE